Thursday March 19, 2009. 4:05pm. South by Southwest. Urban Outfitters back patio, Austin, Texas.
Two girls enjoy British indie trio We Have Band. Thom takes pictures. Small crowd dances awkwardly. Embarrassed. Then unicorn-headed man dances exuberantly, revives crowd. Unicorn-headed man stands in back, drinks free beer. Tilly and Thom have no beer. Tilly and Thom are under 21.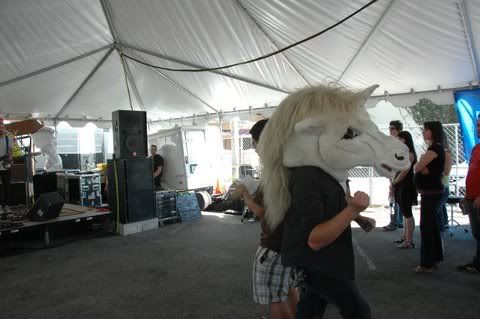 Band member declares "This is hottest place we've ever played!" It is 78 degrees. Tilly and Thom laugh.
Bass. Synthesizers. Kick drum. Snares. Tambourine. Human voices. We Have Band makes good music.
"You've Had Band" - We Have Band
"Oh!" - We Have Band