We, Tilly and Thom, were among the many happy dancing hipsters at Australian band Cut Copy's show at Stubb's on Friday, March 6. We agree that it is very refreshing to see so many people crazy dance who might normally stand pretentiously still.
And it was exuberant! Matt & Kim, a poppy, energetic duo from Brooklyn who consist of only drums and synths, was a fun and cute opening act.
"Good Ol' Fashioned Nightmare" - Matt & Kim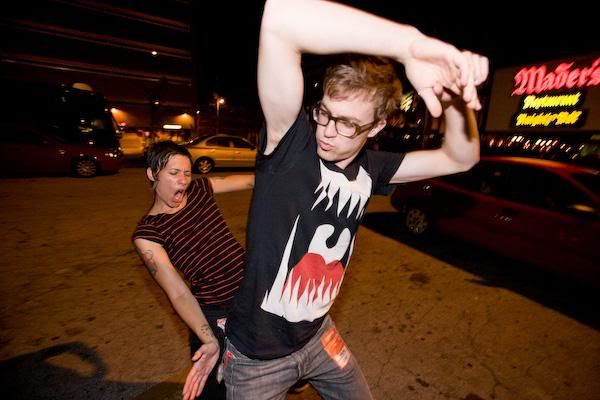 Cut Copy really got the hipsters going, though. Skin against sweaty skin, everyone bounced, jumped, twisted, and undulated to the hypnotic Cut Copy melodies (a lot like Matt and Kim you see above!). We don't know about you, gentle readers, but that's how we here at 2g1k like it. The sweatier the better.
"Sands of Time" - Cut Copy
(someone made a sparkly gold banner for this new song! awwr.)
"Far Away" - Cut Copy