Dear gentle (and patient) readers,
We're glad to be back after a sustained absence. There seems to be a bad case of unabashed laziness going around 2g1k...we hope you are well. And now we bring you what you've come to see: our favorites this week!
Tilly:
Phoenix is about to come out with a great new album,
Wolfgang Amadeus Phoenix
, which is just an adorable name. In it, the French indie vets have kept their unmistakable charm, catchy-ness, and originality, but with an added electronic twist.
"Lisztomania" - Phoenix
"1901" - Phoenix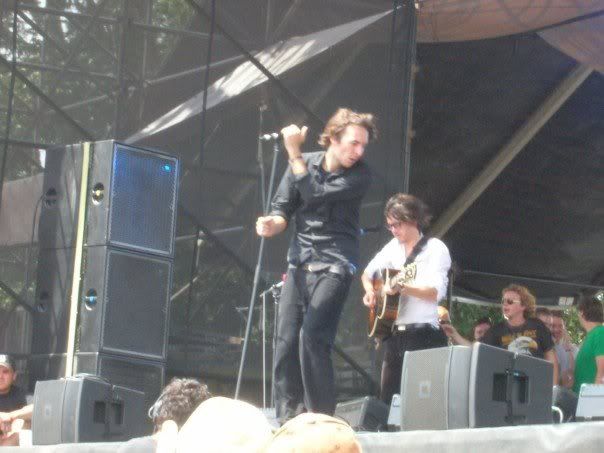 This a picture of Phoenix from Tilly and Thom's epic ACL fest 2006 experience!
Also, I've discovered a pretty neato lady named Anni Rossi who goes about making quirky music with a viola and not much else. She has the style of a sort of Andrew Bird and Regina Spektor hybrid. She seems very talented and natural, and so I've included a video of her performing wonderfully on a sidewalk in the cold!
Thom:
Thom likes sleep. Thom likes sleep a lot. However, Thom can not always get sleep. When Thom does get the chance to sleep, she likes to listen to a few tunes right before she dozes off to get her into that sleepy mood.
Iron and Wine does just that. Grab your nearest portable music device and curl up next to a warm fire or lay on a comfy couch. You've been busy all day, you deserve this.
Writing this post has made me slightly drowsy, but I'm at work and can't sleep right now.
Well, maybe I'll rest my eyes for a few minutes.
"Trapeze Swinger" - Iron and Wine