Justin Bieber: pre-pubescent Canadian teeny-bopper pop sensation. AKA: Bieber, Biebs, The Bieb, J-Biebz, Biebasaurus, etc. (OK maybe the last one is just what I call him.)
Bieber fever has swept the nation and it now sweeps 2g1k!! Sort of. Let me 'splain.
First, we have The Biebs and his silly sugary-pop song "Baby." In the video seen below, Biebs romances a girl who looks at least 5 years older than him--guy/girl dance-off included!!!1!11!! omg like wow. Watch any other Biebvids, and then you'll see this is a steady, creepy trend.
And then we have "Heartbreaker" by other (superior) Canadians MSTRKRFT (which consists of one half of the former Death from Above 1979), which rocks fo sho. It really helps that John
Effing
Legend sings! That guy is magical. Check out the video below:
...But what do you get if you put these two together?!?! Something FAR better than "Baby" and as fun as "Heartbreaker," thanks to DJ CJ Milli! It sounds like what "Baby" should be to be an interesting song. Great for ironic hipster dance jammin'!!
"Heartbreaker/Baby" - Justin Bieber vs. MSTRKRFT, CJ Milli Mix
Finally, here is another example of what happens when Tilly has too much time and access to the interwebs and MS Paint. Enjoy, Bieberluvvers!!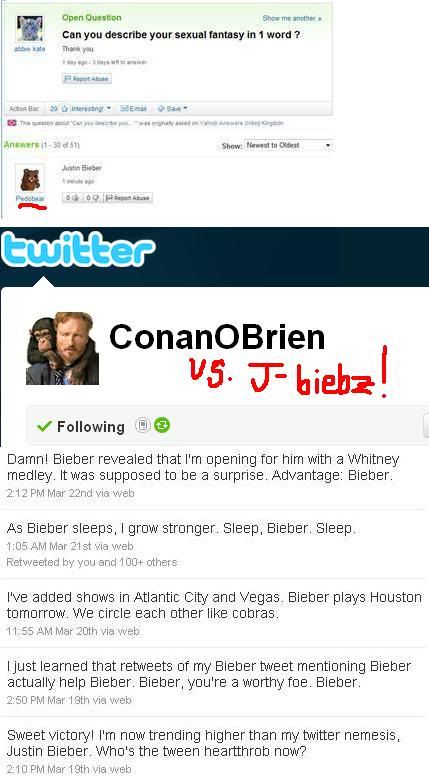 Love,
Tills