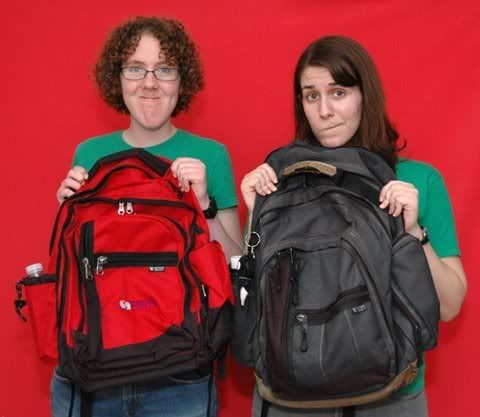 Gentle readers,
Tilly and Thom may sometimes seem
different but the same
, since they love so many of the same things. Including: backpacks!
Thom recently received a lovely red backpack from the local blood center, for giving away her lifeblood all the time. Tilly has had the same lovely green backpack since 7th grade that she purchased in Chinatown in San Fransisco. These two lovely backpacks are in fact the same exact kind of backpack! So take Tilly, Thom, and matching backpacks, and what do you get?
Sexy results
.
"Different but the Same" - Ben Kweller
"Sexy Results" - Death from Above 1979
BTW: New poll! Check it! *DJ scratch noise*