Last Thursday, we saw Andrew Bird at The Paramount Theatre, as he tours his lovely new album
Noble Beast
.
As you can see, we are very reserved, serious concert goers.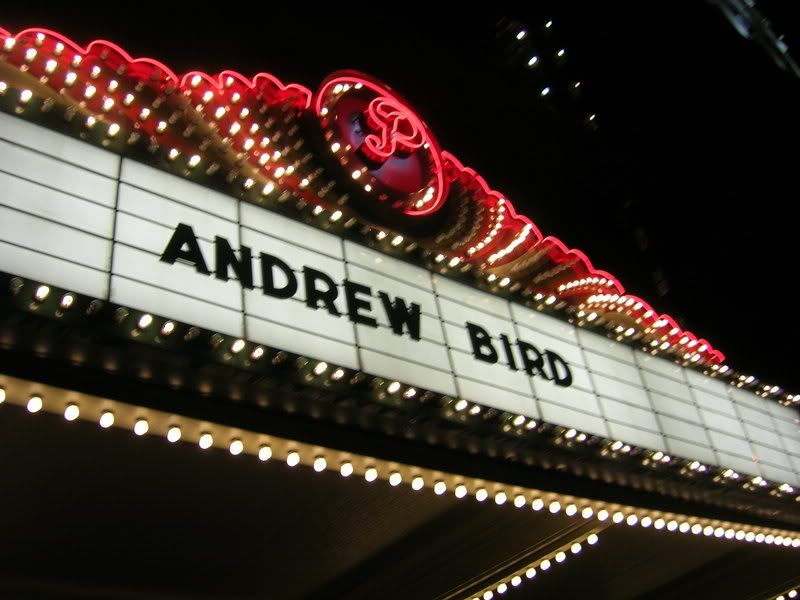 Opening the show was Swedish band Loney Dear, who were pretty much cute. They have an ability to build and layer sounds into a nice cacophony, a bit like Andrew Bird himself, though they are less classically-influenced then him. The lead singer was quite charismatic and sweet. Halfway though their set, a girl exclaimed "I love suspenders!" in reference to his attire. He immediately replied, "They're called
braces
, honey."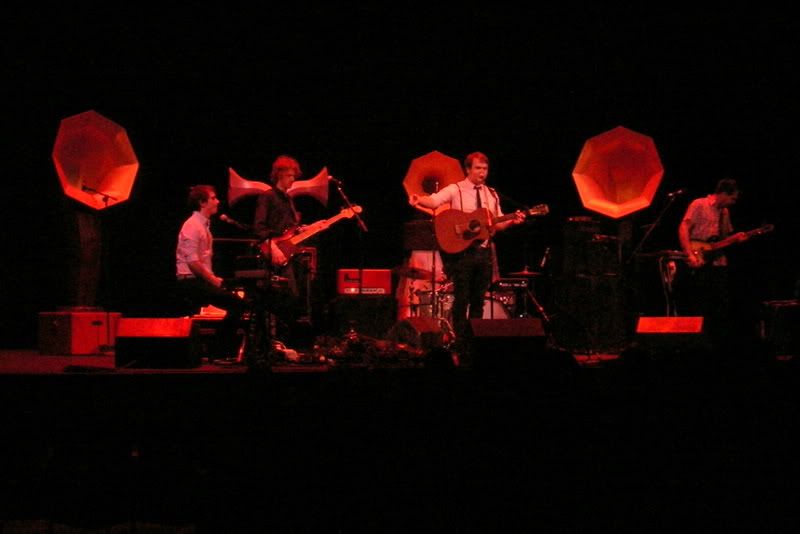 But Andrew Bird! Oh, Andrew. Can we call you Andrew? Yes? Wonderful. Seriously, it was quite a show. With no backing band, he used a violin (a key part of his music, as his listeners know), an electric guitar, and (sparingly) a xylophone, not to mention his uncanny whistling and beautiful voice. What elevated his performance into another dimension was his use of a floor peddle system to create and control loops of what he was doing to amazing effect. Thom always assumed Andrew Bird would spout multiple limbs like some sort of Vishnu creature in order to play, but for the most part looping worked pretty well too.
Unfortunately for all present, one result of such beautiful music was the emergence of THE CRAZY GIRL. During the middle of a song, a woman struggled past us (the seating was cramped and so anyone who tried to escape had to uproot many during the process). We thought nothing of it at first, but then she stood in the aisle and waved at Mr. Bird. Thom's first thought was that the girl was going to rush the stage and embrace Andrew Bird during the middle of the performance.
Although this did not happen, Crazy Girl was clearly beyond normal Andrew Bird fandom. It's quite possible every single person during the show, at one point or another, wanted to make love to Andrew Bird; but, at least we kept our passionate thoughts SILENT. We did not scream extra loud to get his attention. Not even when he casually mentioned how he had on his "horsie socks," as he had removed his shoes. Most of all, we did not squat in the middle of the aisle, swaying erratically back and forth (where were the ushers by the way who told Thom she could not take pictures but still allowed this sort of behavior?!!!).
This picture was secretly taken while crazy girl was next to us in hopes of getting the ushers' attention.
We had a hard time not laughing too loud, but we definitely had tears in our eyes. Eventually, Crazy Girl went back to her seat, and the wonderful sounds of Mr. Bird continued.
"Fitz and the Dizzyspells" - Andrew Bird
"Anonanimal" - Andrew Bird