Hello all!
I'm here to tell you about the grand return of Cold War Kids, Metronomy, Peter Bjorn and John, and (I daresay most importantly?)
2 GIRLS 1 KEYBOARD
! We are going to stop being deadbeat 20-somethings and start writing more often. Starting now.
Cold War Kids: Mine is Yours
It's been 3 years since
Loyalty to Loyalty
, the most recent album from solid 2g1k favorites Cold War Kids, but it didn't make much of a splash back in '08. I've previously
noted
this lack of Cold War Kids goodness, but they have returned!
Mine is Yours
is a new but really good sound for them. A little less Southern bluesy, a little more inspirational, a whole lotta catchy and pretty tunes! It's worked well for the band--they have gotten popular enough to make an appearance in little ol' Albany, NY at Tulipfest 2011, which I had the pleasure of attending. Look carefully below, and you'll see a great example of a native Albany college student in all his douchebaggery.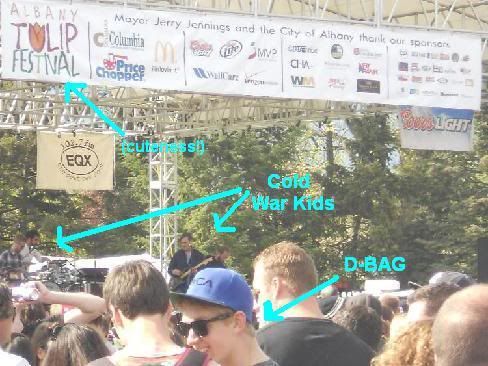 Here's a few of my favorite tracks, since oddly I've never loved the single which has made them so popular of late, "Louder than Ever."
"Finally Begin"
"Sensitive Kid"
***
Metronomy: The English Riviera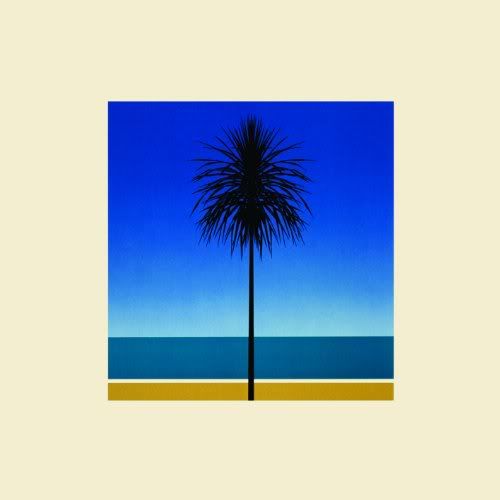 Metronomy, how we have missed you! Thom and I are pretty big
fans
. Thus the three year wait since
Nights Out
has been sad, but
The English Riviera
has arrived...and it's magical.
As with Cold War Kids, this album represents a newer, more refined sound for the band, but with very good reason--the departure of one of the original three band members and addition of two new ones! Gabriel Stebbing, or as I sometimes call him, "The Hot One," amicably left Metronomy, then Gbenga Adelekan became the new bassist and Anna Prior the new drummer. (GIRL DRUMMER FUCK YEAH.) See them below in the music vid!
"The Look" (showcasing the quintessential adorable Metronomy music video style)
"Everything Goes My Way"
***
Peter Bjorn and John: Gimme Some
Just like the sandwich, PB&J always satisfies. Though only two years after their great album
Living Thing
,
Gimme Some
is really refreshing. It brings back the upbeat, hypercatchy, quirky strangeness of their golden years, complete with endearingly imperfect English lyrics.
"All art has been contemporary, dig a little deeper"
...well said, young Swedes!
"Second Chance"
"Dig a Little Deeper"
Hopefully some of these songs strike your fancy! Stay tuned for a soon-to-come Favorite Things post from both of us.
Until next time,
Tilly